Published 29 Oct 2021
2020-21 Annual Report
Find out more about VIT's activities over the 2020-21 financial year.
The Victorian Institute of Teaching tabled its 2020–21 annual report in the Parliament of Victoria on 28 October 2021.
The 2020-21 period has been a year of extraordinary achievement for VIT, despite the ongoing challenges faced by the coronavirus pandemic (COVID-19). In addition to an overarching function to provide for the safety and wellbeing of children, we have been further supported by new legislation which embeds our role in teaching excellence. Through the delivery of our statutory functions, we have been consistently implementing our vision for all Victorian children and young people to have the best teachers.
The past two years have been challenging for the Victorian education system: handling COVID-19, re-engaging learners and recognising the extraordinary professional contribution of teachers in the face of unprecedented uncertainty. The VIT has sought to support the education system and profession by providing a point of certainty, of professional integrity, with a continual focus on improvement.
During the reporting period, the number of registered teachers increased to 138,340, which is the second largest cohort in Australia. The majority of registrants (91%) are school teachers; the remainder comprising early childhood teachers (5%), dual registered teachers (3%) and holders of permission to teach (1%).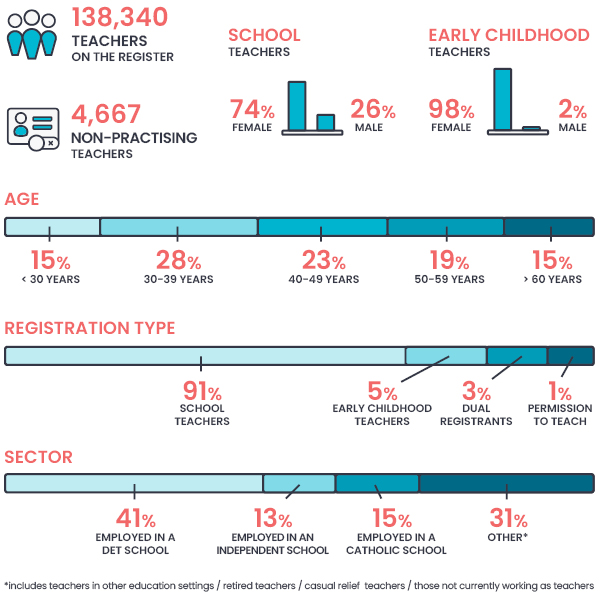 The revised Victorian Teaching Profession's Code of Conduct was circulated at the start of term 2, 2021 and came into effect on the first day of term 3, 2021.
The Act was amended to clarify VIT's powers to accredit initial teacher education programs and introduced new powers to endorse 'pathway' programs and continuing professional development programs. The amending Act also improved VIT's information sharing powers. The Minister's general powers were also amended to allow the issuing of policies, guidelines and directions to the VIT.
In recognition of the challenges faced by some registrants due to COVID-19 restrictions, the VIT made adjustments to professional practice and professional development obligations for registration renewal, and reduced professional placement requirements for pre-service teachers. 
The VIT supported the government's Innovative ITE program initiative and contributed to the government's Graduate Teacher Induction pilot (Career Start).
The VIT finalised the full stage one accreditation of 12 initial teacher education programs; there are now 163 accredited ITE programs in Victoria, 74 of which are in 'teach out' (i.e. they no longer accept new enrolments).
Consistent with previous reporting periods, the VIT received a high number of notifications and complaints relating to teacher conduct. This is particularly so since the Betrayal of Trust Inquiry, the Royal Commission into Institutional Responses to Child Sexual Abuse and the introduction of the Reportable Conduct Scheme. 
To address this continuing trend, the VIT has committed additional resources to the Conduct and Compliance Branch. All new notifications and complaints are triaged to identify and prioritise matters according to the level of risk the teacher's alleged conduct poses to the safety and wellbeing of children. Each inquiry into teacher misconduct involves a large amount of engagement with teachers, employers, families, law enforcement agencies and co-regulators.
The VIT received 2,232 new notifications or complaints (an increase from 419 in the previous period). Of these, 41 resulted in a suspension of the teacher's registration because they posed an unacceptable risk of harm to children; had been issued with an Interim Working with Children Exclusion; or had been charged with a Category A offence. A further 16 teachers had their registration cancelled due to findings of guilt for Category A offences or because they had been issued with a Working with Children Exclusion. Forty-two of the notifications that were resolved resulted in the imposition of conditions on the teacher's registration and 20 resulted in the refusal of the teacher's application to renew their registration. 
Following amendments to VIT's legislation in 2019, the Education Legislation Amendment Suitability Reassessment Project was established to consider the criminal histories of 5,220 teachers and determine whether reassessment against the Working with Children Act 2005 was required. As part of the project (which will conclude in October 2021), VIT will have reassessed 1,843 criminal histories. 
As at June 2021, VIT was assessing and investigating 1,055 matters that originated from notifications and complaints concerning teacher conduct.
Other highlights of the Annual Report include
developed additional resources and seminars to support teachers working remotely to create a safe working environment for learners online

reduced unregistered teaching practice through targeted education and communications

introduced new proof of identity requirements to meet Australian Criminal Intelligence Commission (ACIC) requirements for identity validation

supported ITE providers to implement national reforms in early reading instruction to strengthen the capacity of graduate teachers to teach reading

monitored the implementation of the Victorian Selection Framework to assure the ongoing clarity and transparency of the required selection criteria for entrants into initial teacher education (ITE) programs

supported providers to embed the Teaching Performance Assessment (TPA) in their programs

worked collaboratively with subject experts to deliver targeted standards-based professional learning on identified needs

supported ITE providers and panellists in transitioning to the use of new AITSL Guidelines for the Accreditation of ITE programs in Australia

undertook a major legislative revision of VIT's investigations powers and processes

completed Activity Based Costing analysis

achieved Victorian Protective Data Security Framework compliance

implemented a remote platform for conducting Hearing Panel cases

continued to support staff wellbeing and manage remote work arrangements without compromising functions or service through the pandemic.