Published 08 Jul 2021
Effective professional learning for annual registration
Consider these important questions when choosing your professional learning for renewal of registration.

As a registered teacher or early childhood teacher, you must engage in at least 20 hours of professional learning (PL) activities each registration year (1 October to 30 September) to renew your registration.*
Professional learning framework 
Teachers refine their professional knowledge, skills, practice and values as described in the Code of Conduct and Ethics and the Australian Professional Standards for Teachers (APST).
Choosing professional learning activities
VIT does not have a definitive list of required PL activities for renewal of registration. You should consider your individual PL needs in relation to your teaching context, the needs of your learners and the priorities of your learning environment or education sector.
Professional learning is an ongoing process supported by planned learning activities and programs designed to enhance professional knowledge, practice and engagement.
The VIT requirement to undertake 20 hours of PL for renewal of registration applies to all registered teachers equally, whether they work full time, part time or on a casual basis.*
The graphic below highlights some of the accepted forms of PL for teachers who are seeking to renew their registration.
When selecting professional learning activities consider asking 'How does this activity contribute to my professional knowledge and how will I apply that knowledge to my practice to support the learning of those I teach?'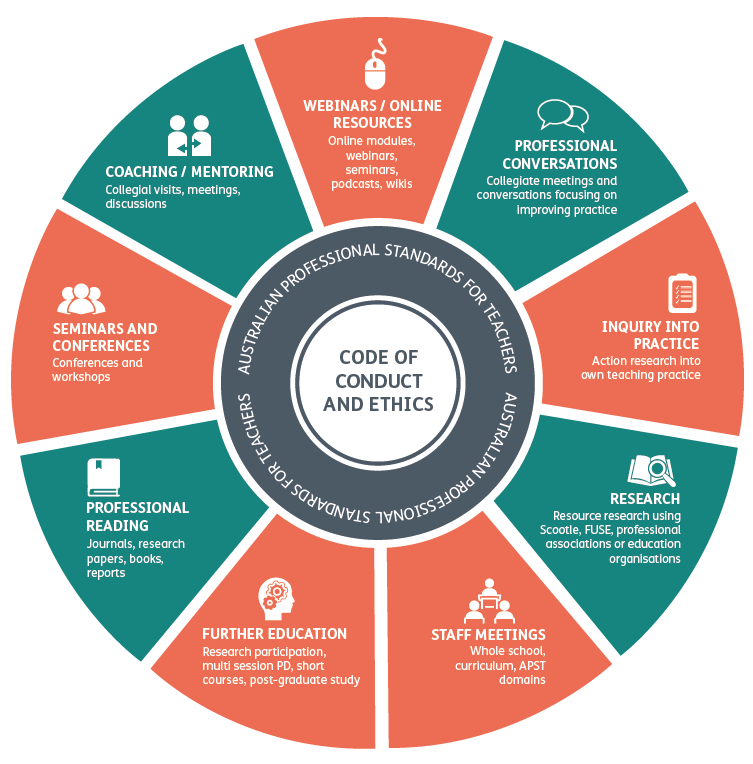 You should record your PL in an appropriate manner (e.g. MyPD tool in your MyVIT account). You should record the name and type of PL, but also a reflection on what you have learned and how it has influenced your practice and learner outcomes.
Professional learning can take many forms and you should familiarise yourself with the types of activities that will be acceptable PL. Most teachers will find that they have accumulated well over the required 20 hours.
*VIT understands that the coronavirus pandemic (COVID 19) may have had an impact on some teachers' ability to undertake their registration requirements. Read about how we have minimised the impacts of COVID 19 on teachers' registration requirements where possible.