The Victorian Institute of Teaching (VIT) is an independent statutory authority for the teaching profession, whose primary function is to regulate members of the teaching profession.
The VIT was established by the Victorian Institute of Teaching Act (2001) in December 2002 and undertakes its functions in accordance with the Education and Training Reform Act (2006). Read more about VIT's legislative requirements.
Our vision is to ensure that Victorian learners have the best teachers.
We achieve this by accrediting initial teacher education (ITE) programs, monitoring the suitability of registered teachers, developing their practice through professional standards and regulating their compliance with the Codes of Conduct and Ethics.
It is a legal requirement for all teachers to be registered with VIT in order to undertake the duties of a teacher in a Victorian school or early childhood service. Teacher registration helps maintain professional status, standing and public confidence in the teaching profession, particularly in the suitability of teachers to work with children.
Watch our video - Why is VIT registration important for the teaching profession?
Check out VIT's Strategic Plan for an overview of our strategic goals and how we intend to achieve them.
Our regulatory approach
The VIT's regulatory approach sets out our strategy to regulate the teaching profession in Victoria, reflecting best practice and strengthening our risk-based approach to teacher registration.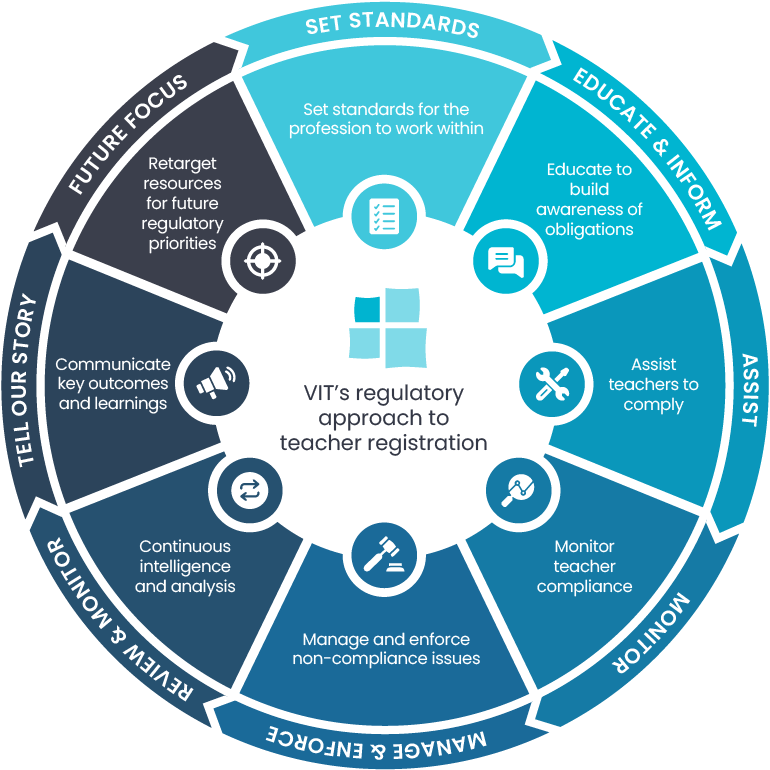 Our regulatory approach includes the following principles that outline how we perform our functions.
Outcomes focused
Our functions are clearly focused on achieving our strategic objectives.
Accountable and transparent
We perform our functions responsibly, objectively, fairly, consistently and transparently.
Efficient and timely
We focus on prevention and take a proactive approach to relationship building, information sharing and education.
Intelligence led
We analyse and use the best available data and intelligence to identify emerging trends, patterns, risks and weaknesses.
Risk based
We consider risk when exercising all of our functions, considering the safety and wellbeing of children and young people.
Proportionate
We make regulatory decisions and allocate resources based on the risks, consequences, benefits and strategic objectives involved.
Collaborative
We develop and maintain collaborative and productive working relationships with duty holders and stakeholders.
Engaging
We inform and educate the teaching profession about their responsibilities and obligations to safety and quality in teaching.
Responsive and flexible
We are responsive and flexible to emerging trends and issues, and current risks.