Any activities that teachers engage in that develop their professional knowledge and practice to support student learning and that are relevant to their teaching context can be counted as professional learning.
The VIT expects that all professional learning activities used as evidence to be formal and/or informal learning experiences aimed at improving the teacher's knowledge, practice and competencies in the Australian Professional Standards for Teachers (APST).
Professional learning may include
seminars, conferences, workshops and online learning

professional development days and action research projects within the workplace

short courses, multi-session professional learning and post-graduate study

research participation

professional reading (i.e. journals, research papers, books, reports)

collegiate meetings and professional conversations focussed on improving practice and outcomes for learners

resource research (i.e. professional associations and education organisations such as DET, VCAA, ACARA, AITSL, VIT), and

participation in education-related boards, committees or panels,
Read about the benefits of professional learning for teachers.
Watch our video - Professional development ideas
Documenting professional learning activities
Professional learning activities should be recorded, and include a reflection demonstrating how the activity has enhanced the teacher's professional knowledge and/or teaching practice. Professional learning activities are to be entered via the 'MyPD' tile of the teacher's MyVIT account.
Visit the Teacher resources page to find out how to log professional learning activities in MyPD.
Professional learning requirements for annual registration
Teachers who hold full registration are required to undertake professional learning each year as part of the annual registration process.
Professional learning undertaken each year must cover at least one descriptor in each of the three domains of the APST.
| Registration category | 20 hours professional learning per annum |
| --- | --- |
| Full registration | :icon-for-yes |
| Provisional registration | :icon-for-no |
| Non-practising registration | :icon-for-no |
| Permission to teach | :icon-for-no |
Australian Professional Standards for Teachers (APST)
The APST are used by all teachers in Australia, and underpin the requirements for accreditation of initial teacher education (ITE) programs.
They are designed to clarify the knowledge, practice and professional engagement required for all teachers. They provide a common language for teachers, teacher educators, organisations, professional associations and the general public.
The APST are organised into four levels – graduate teacher, proficient teacher, highly accomplished teacher and lead teacher. These stages are designed to reflect the teacher's career stages and the ongoing development of their expertise.
The graduate teacher and proficient teacher levels have been adopted by VIT for teacher registration and the annual registration process. Although we have not adopted the highly accomplished teacher and lead teacher levels, individual jurisdictions may choose to use these as a guide with schools.
Check out the following resources related to the APST
Structure of the APST
There are a total of 37 descriptors of the APST, which have been categorised into three domains.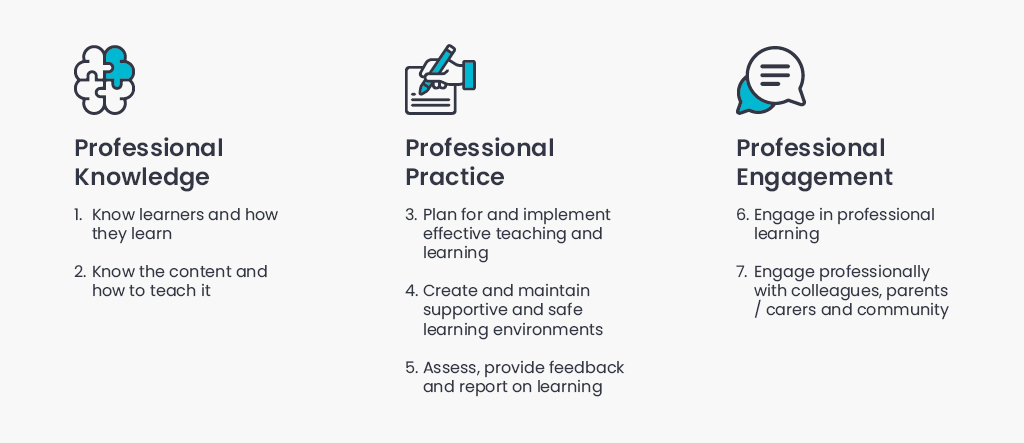 Resources
We have compiled useful information and resources that align with commonly used descriptors.
Check out our Events and seminars calendar to find out what upcoming events may help you provide evidence of professional learning.
Last updated: 29 Mar 2023