Published 25 Aug 2022
Developing cross-curriculum programs to encourage student learning - Our Lady of Fatima Primary School
Engaged students in learning
Amanda Heggen - Visual Art teacher and Sustainability leader 
Our Lady of Fatima Primary School
Schools and early childhood services across Victoria continue to provide quality learning experiences across all levels. The VIT's Professional Practice team is privileged to see this work first hand on visits to workplaces around the State. Here is just one example spotlighting the great work happening in a Victorian school.
Amanda Heggen's range of cross-curriculum programs and sustainability initiatives secured Our Lady of Fatima Primary School a nomination at the 2022 ResourceSmart Schools Awards. We spoke to Amanda about how she's leading her school's sustainability portfolio by combining STEM and LOTE through the lens of visual art.
Q: Can you give some background to the development of your approach to the initiative, including any research or established models / strategies that your approach is based upon?
Being a visual art teacher means that I not only teach children how to read visual cues and develop technical skills, but also inspire and encourage them to be brave, imaginative, creative and critical thinkers. To me, teaching visual art is about the joy of creating and having the scaffolding in place to develop a student's ideas into a reality.
I believe that Inquiry learning combined with a cross-curriculum focus provides optimum student engagement. Throughout my teaching career I have enjoyed developing many programs that combine different academic subjects to get the best learning out of my students.
In 2014, I used Little Scientists Australia to blend STEM into my visual arts program, as the philosophy of using a wide range of materials to encourage a variety of answers to a posed question matched my own style of teaching.
In 2019, I investigated the island of Lombok to create an art program that would support our Indonesian LOTE program and the cultural aspects of our sister school in Lombok. I used patterns, traditions, legends and religions to inform a creative and innovative program to support the knowledge and culture of Indonesia. Whilst the program was a blend of LOTE and visual arts, the same investigative principles of STEM and open-ended learning continued.
In 2020 my role expanded to include sustainability, which aligned with my artistic focus to use a range of recycled materials to stimulate ideas and creative thinking. Over time we moved from using purchased products to mostly recycled or upcycled items, and op shop goods and hard rubbish were deconstructed and applied in new ways. This approach also encouraged families to get involved in a resourceful way.
When our school commenced remote learning due to the Covid-19 pandemic, it was difficult to provide students with materials as supplies were not easily sourced. The added challenge was to ensure a creative, open-ended and sustainable visual art program that was linked to LOTE and our new affiliation with ResourceSmart Schools. I found a way to continue our sustainability journey by developing an art program that incorporated LOTE and inspired learning adventures in nature within our community.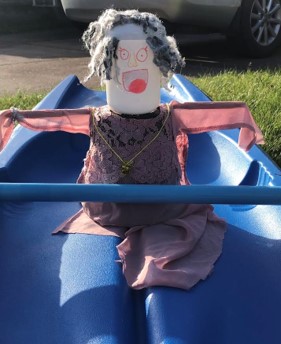 'Carecrows' - spreading joy and kindness throughout lockdown
Recycling mixed media to enhance creative opportunities
Highlights of this community orientated visual art program included
the creation of Carecrows which were 'creative scarecrows' made from found objects at home and in the local environment. They were displayed in our families' front yards and shared across social media to spread joy during lockdown

the LOTE connections added to student health and wellbeing with students creating their own Bunga prayer bowls using foliage from their backyards to create peace within their homes

the added benefits of outdoor adventure and a greater appreciation for our natural environment through the environmental art installations in the style of Andy Goldsworthy.
Q: What structural things are in place to ensure that the initiative has its best chance at success?
Ensuring success involved the detailed use of the visual art curriculum, which mapped out how the program covered visual art, sustainability and LOTE, along with the experimental and exploration elements of the program that link directly to reusing recycled materials. The program was multilayered to engage a range of students and open-ended to cater for all skill levels. However, the celebration of creative thinking was the program's greatest outcome.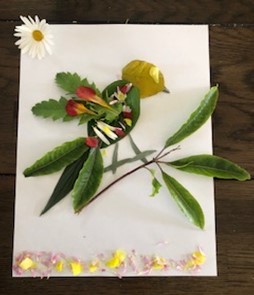 Using natural materials to create in visual arts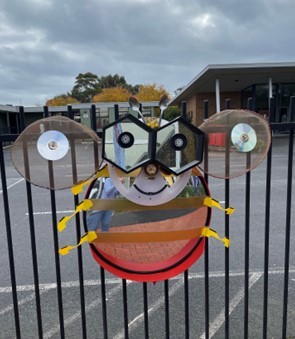 Using recycled plastics to create in visual art
Q: What are the greatest benefits to staff development of this approach?
I shared my program through professional development posts on Facebook as a mentor of the Bayside and Mornington Peninsula Art teachers' network, as a presenter at meetings for the Teachers' Environment Network (TENS) and on the Our Lady of Fatima Primary School blog on ResourceSmart Schools. This way I could share my ideas with other teachers and government representatives to encourage their own professional learning and showcase the benefits of cross-curriculum programs.
Q: What have been the benefits of this approach to learner outcomes?
The benefits to learner outcomes are evident, especially in our junior students, who are proud of sharing an original idea in circle time and brave enough to try their own way to do an activity. They are proud to be critical, creative and independent thinkers who know that they think like artists. I set a task and receive a different response from each child. That is individualised learning!
As the students move into the middle school, their eagerness to try new techniques or styles of art demonstrates a flexible learning attitude and ability to transfer prior learning to new challenges. They are creators, not just makers and they do it with a love of sustainable practices and exploring other cultures, artists or ideas.
Senior students understand more than any generation that creative thinking is the key to their future in whatever careers they may engage in or create for themselves.
Q: What plans does your workplace have to take this approach forward?
Whilst Covid-19 forced us to focus on sustainability, the future will strongly hold hands with LOTE and STEM. A recent visit to Indonesia has furthered my knowledge of local legends, cultural celebrations and new sustainability practices, such as seaweed farming and minimising plastic pollution. These cultural aspects will be shared in visual art, whilst sustainability initiatives will be shared at assembly to continue our global citizen approach to sustainability. 
In 2022, we see sustainability gathering pace in a range of educational programs with the local community really supporting our initiatives.
Our short listing as a finalist for the ResourceSmart Schools Awards in the Primary Community Leadership School of the Year category extends from our wide-ranging recycling programs, such as local families embracing our 'Pick Up 3' pieces of rubbish initiative. This in turn promotes a wider awareness of rubbish being a floating and moving problem between us on the Mornington Peninsula and our sister school in Lombok. The students see they are global citizens and that together we can join small actions to create big changes.
Community engagement is being further strengthened through our gardening program with the development and installation of a beehive program at the school. This will link to future initiatives such as world Bee Day. We are involved in a range of sustainability activities including Birds in School program, We Are Calling You E-Waste program from the Melbourne Zoo and the Dolphin Research Institute.
Our next step is to schedule a four year plan so students and families can get involved with programs that are relevant and matter to them. We will be able to forward plan each program so it may be enhanced and adjusted to our students' and community's interests and educational needs.
Q: Can you detail any references or citations applicable?
Do you have an example of outstanding work in your school or early childhood service? We'd like to consider showcasing it the Excellence in Teaching section of our website. Send your example and contact details to vitcomms@vit.vic.edu.au.