Published 13 Sep 2021
Excellence in teaching: Iris Ramsay Kindergarten and ECKA
Liz Bandy – Pedagogical Leader, Early Education Advisor, Service Leader and teacher at Iris Ramsay Kindergarten and ECKA, tells us about their important work: 'Nurturing the Wildlife Warriors and Environmentalists of the Future'.
It can be hard to block out the 'noise' when you are developing your curriculum in early childhood. Everyone thinks their focus is of the utmost importance – STEM, literacy, maths, languages, sustainability, intergenerational connections and so much more. They are all important, however the curriculum is so crowded that it is up to us, as educators, to decide what is right for our children, families, their community and also what runs true to our own personal philosophy.
I believe strong, secure and trusting relationships are the key to most things in life, especially an early childhood program - relationships between children, educators, families, community and the environment we live in.
The relationship we have with our environment and the animals that live in it has become unbalanced. We are increasingly taking more than we need and treating it with disrespect. As a result, we are seeing the effects of climate change, loss of habitat and an ever-increasing extinction rate of our precious wildlife. Even our national icon, the koala, is on the endangered list and is at risk of disappearing from New south Wales by 2050. We must follow the lead of the Aboriginal culture, and care for country. We must live with the land rather than imposing on the land.
I have grown up with a deep love for animals and spending time in the outdoors. This love for the outdoors has influenced my attitude towards the outdoor play environment for children and how much time they need to play in its embrace.
At my kindergarten, my families all know the mantra "There is no such thing as inappropriate weather, just inappropriate clothing!". I first heard this saying from Claire Warden of the Forest Schools in Scotland. I have been lucky enough to participate in a number of professional development sessions with Claire, and she has greatly influenced my attitude to letting children take risks and the writing of risk benefit assessments to enable things to take place rather than saying 'no' because something is too hard.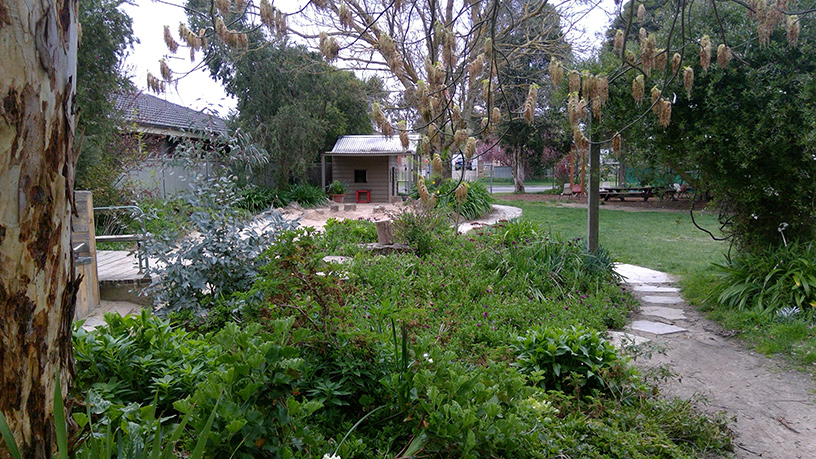 For example, using a campfire to toast marshmallows and cook damper is one of life's little pleasures. The children help develop the rules themselves and then take ownership of them because they are meaningful, and then also help to enforce them to keep each other safe.
Climbing trees is great for risk taking as it can be a little bit scary, and requires concentration and gross motor coordination. Children know that you only go as high as you feel comfortable and stand on branches that are thicker than your arm. The sense of self satisfaction that children get from simply climbing a tree is priceless. We spend the first part of every session outside and find that when we do venture back inside, the group are far more settled, happy and ready to engage in other things.
At the beginning of 2020, we were given the opportunity to set up our own bush kinder program in the nearby Pax Hill Scout Camp. We were given our own area of bush within the camp, but are also allowed to go on expeditions to explore further afield.
We regularly see a mob of kangaroos, and the trees are filled with a large variety of birds. The children get excited when they find scat, and our reference books assist with identifying the animal. (We have made reference books with photos of local animals, birds and plants and their names in the local Wadawurrung language.)
This year, our bush kinder experience began with a Smoking Ceremony, thanks to one of our Indigenous grandparents. This was a very special experience that the children regularly talk about. Every day, we participate in an Acknowledgment to Country and it is the first thing that we do when we arrive at our bush kinder site.
This year, the children have embraced their responsibility in caring for our bush kinder site and we have seen a real change in attitude. They love collecting treasures they find on the ground, and use these to make art works in the dirt, build fairy houses and design their own maths games.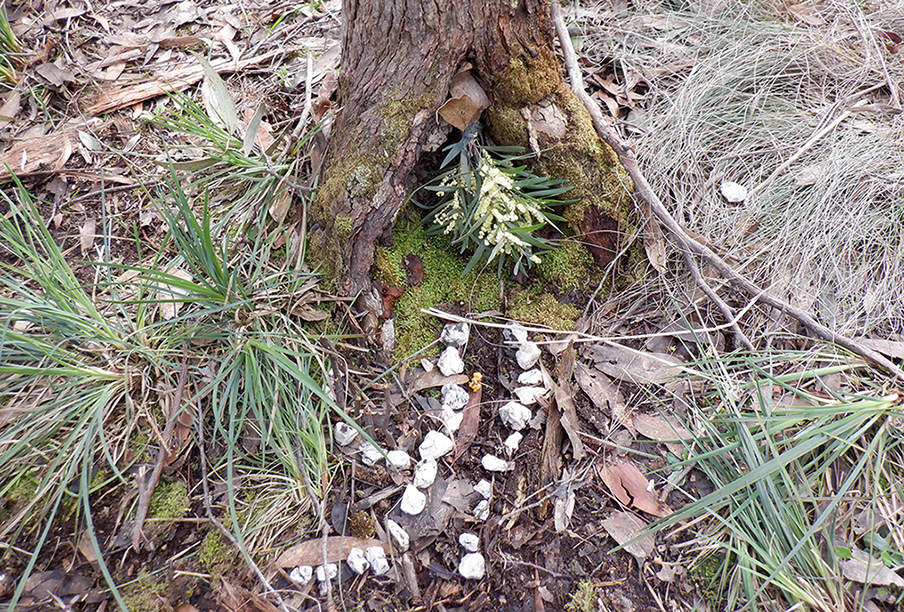 "We only use things that we find on the ground so we aren't hurting the bush," Florence, aged 4, told me recently. Sticks and logs make really good cubby houses, there are trees to climb, logs to balance on, and the freedom to run, sing, explore and 'just be'. We experience flow, we develop relationships and are always disappointed when it's time to head back up the hill to meet the bus at the end of the day. During times of lockdown, bush kinder has been our special, safe bubble away from COVID, and has been an important part of the wellbeing of both children and educators.
After critically reflecting on how our thinking was changing, our service started to re-imagine what our philosophy should look like. I started to ask more questions and found that we had overwhelming support from our families and children.
Scrapping a long held philosophy to start on a new journey is confronting, time consuming and powerful. It is a celebration of who we are and where we are going. What can we do to be kind to the environment and the animals that live in it? It covers issues such as using recycled photocopy and toilet paper, recycling our waste and adopting water conservation practices. Another action we have taken is to set the room temperature not too warm in the winter and not too cold in the summer. One of my bug bears is entering a classroom that is uncomfortably hot because the teacher feels the cold, and then they wonder why the children are so unsettled.
Our incursions are now more thoughtful, such as our friend Michael the Roo Keeper, who brings in his native animals and talks to the children about wildlife conservation. He comes back later in the year to talk about the important role that bees make to the environment and our lives. The local water authority visits to talk about where our water comes from and the importance of water conservation.
Our picture storybooks have important messages such as what happens when you throw a plastic bag away and it ends up in the ocean. We have our own water tanks for the children to access water for play and for the garden, and we are working towards one day having solar panels. As for resources, everyone is mindful before purchasing goods and the best resources are often the ones found in Op shops.
We still have a long way to go, but it's a journey that we, at Iris Ramsay Kindergarten, are willing to take together.
Do you have an example of outstanding work in your school or early childhood service? We'd like to consider showcasing it the Excellence in Teaching section of our website. Send your example and contact details to vitcomms@vit.vic.edu.au.